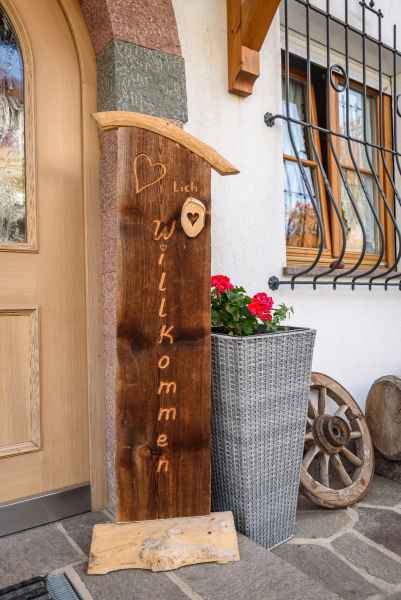 Relaxing holiday on a farm in Verano near Merano
Hello and welcome at the Wieserhof in Verano!
Our farm is in Verano, a village on the sunny plateau of the monzoccolo between Bolzano and Merano. The village is on 1200 meters above the sea level and is one of the sunniest places in South Tyrol. It is ideal to enjoy a relaxing holiday on a farm, far away from stress and turbulence. Only 200 meters from the village centre you can find shops, public transport, the new cable car (since 2017), bars, restaurants and a pizzeria. Verano is also a good starting point for hiking tours.
Indulge yourself with a relaxing holiday on our farm:
We are happy to offer you every morning* bread service. We will bring you fresh milk from our cows for your coffee, herbs from our garden for your tea, fresh eggs from our chicken, sweet honey from a nearby beekeeper for your breakfast roll and delicious apple juice from Verano directly to your door.
You have the choice to enjoy your breakfast in the spacious living room of your holiday flat or on the balcony with a wonderful panoramic view.
*except on sun- and holidays. We ask for your order in advance.
Start your day invigorated and full of energy
This is a great start for an eventful day for you, your children and your family. This could be a planned hiking tour in Verano, "Merano 2000" or "Salto", a relaxing day in the spa town Merano or a discovery tour with your children on our farm with all the animals and attractions.